Trends in Online Shopping Behavior That Online Sellers Should Be Implmenting
Online Shopping Trends
In recent years there have been new shopping trends that online marketplaces, boutique stores, and online retailers have begun to implement in an effort to gain a stronghold with online buyers. Some of the online trends to watch out for in 2018 include:
Personalization
While personalization once referred to creating personalized merchandise for buyers, it has evolved to become a personalization of one's entire shopping experience. Brands and large retailers are beginning to use the information they receive from their customer's shopping habits and online habits to provide them with offerings of products they are likely to purchase.
Some of the data that online retailers can gather from customer's shopping habits include such things as:
What they are searching for – Online merchants can gather data about recent searches that their shoppers have made to be able to recommend related products based on this information. This can include such things as offering better deals on flights that a customer has recently searched for.
History of purchases – By using a customer's purchase history, retailers can suggest a product that might interest them or products that can act as a compliment to the recent purchase.
Customer shopping carts – What a customer puts in their cart can be as important as what they have purchased. Shoppers can put items into their cart as a wish list or may plan to purchase it, but something stops them. This can allow retailers to provide discounts on products they are interested in or possibly offer free shipping to get them to complete the purchase.
Customer social media behaviors – When customers like a product, share product pages or research a review. This data can be used to gauge their interest and provide information on the products they should most likely market to their customers.
Geographic considerations – Retailers may choose to recommend products based on a customer geographic location such as items that would benefit certain climates or other geographic considerations.
By focusing on the data points, above online retailers can customize each shopper experience to provide them with options that will most likely be looking.
53% of online shoppers believe that companies that personalize their shopping experience provide additional value.
45% of buyers are more likely to purchase on a site that recommends products.
57% of shoppers are ok with providing personal information if it will benefit them or their shopping experience.
Personalized display ads have a ten times higher click-through rate.
Customer Experience and Community Building
Online companies will use customer relationship management programs to gain information they need to provide the customer with a proper customer experience that will hopefully turn them from a prospect into a repeat customer. These programs can use data such as last email communication, customer questions, localization, information, buying habits, and demographics to improve their online shopping experience. Online shopping sites and marketplaces are learning that solving customer issues and effective communication have a direct bearing on customer engagement and conversion.
Customers have spoken loud and clear about how they value websites and online shopping platforms that put an emphasis on customer experience.
86% of buyers say they are willing to pay more if they have a good customer experience.
One of the biggest negative experience that customer report finding most frustrating is difficulty navigating a website with 90% saying they will go to another site.
75% say they will consider their shopping experience bad if the search results are not helpful.
40% will go to a competitor's site due to slow load time.
20% say they will not shop at a site again if the website is not searchable.
Mobile Optimization
Mobile optimization is a vital component of providing the customer with the online shopping experience they desire. More and more shoppers are relying on their phones not only to perform product research but also to price shop and even make purchases. Statistics show that:
62% of all online consumers have used a mobile phone to purchase within the past six months.
80% of mobile users say they have used their mobile device in a store to research or find reviews on a product.
The important thing to remember when preparing your site for mobile optimization is that it means more than simply making it responsive on a mobile device. To be successful, mobile-optimized sites should:
Mobile optimize their search
Make use of digital wallets optimizing them through one-click
Incorporate product videos when appropriate
Social Media Promotion
While trends have been pushing social media referral marketing for years the past year, more businesses are incorporating multiple social media venues and capitalizing on customers willing to review and share their product to reach a large audience of buyers more likely to be interested in similar products. Some of the social statistics that may surprise many online sellers or marketplaces are:
Instagram, earns over $595 million a year in their ad revenue.
59% of social media users say that being able to connect with customer service through social media channels improves their buying experience.
50 million business utilize a Facebook page.
93% of the user on Pinterest will use that platform to make a purchase.
2 billion businesses utilize Facebook advertising.
Pinterest is responsible for driving 25% if retail traffic to websites.
Facebook ads accounted for more than $8 billion in ad revenue.
To take advantage of buyers' use of social media as not only a referral platform but also for making purchases it is important for businesses to:
Place a catalog for their products on a Facebook Shop.
Make use of Dynamic Product Ads to target visitors that had been to the site based on their views.
Make good use of customer testimonials.
Incorporate videos that have a higher level of shareability.
Build a loyal social media following.
Email Marketing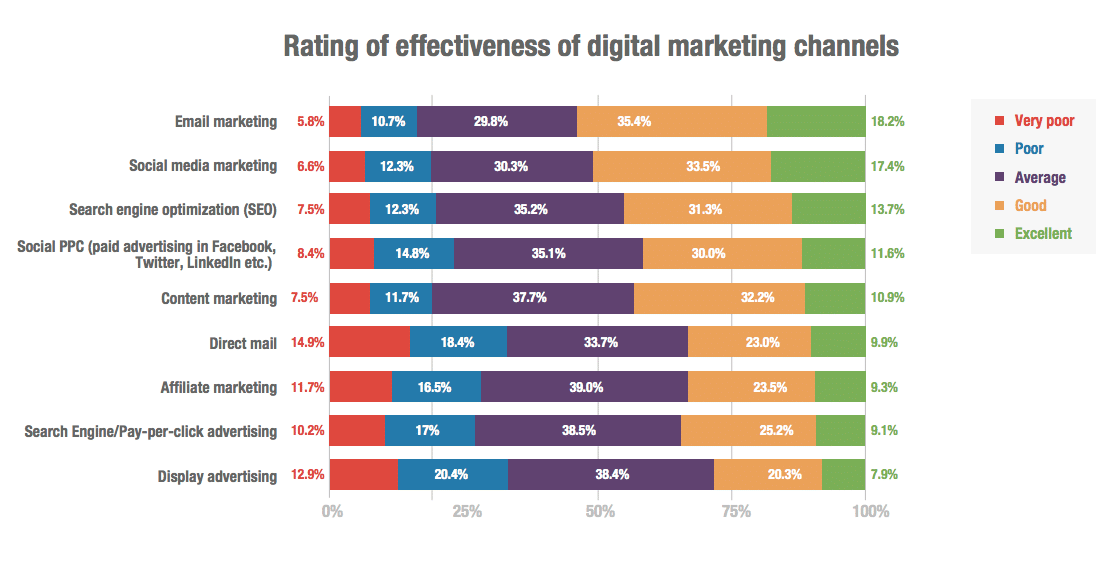 Many online sellers and marketplaces find that a well thought our email marketing campaign could provide them with the most growth for their online stores. There are many reasons that email marketing still holds the top position with some of the reasons being:
Well-built email lists can build your sales funnel and help you generate better-qualified leads.
One of the most commonly viewed emails is receipt emails making this the perfect time to add an upsell.
It is easier to measure the results of an email campaign through measures such as click-through rate.
After creation of the email and securing the list the actual marketing campaign is free.
E-mail marketing campaigns can be automated reducing the amount of time it takes for a marketer to run the campaign.
Email marketing has been associated with increased AOV, repeat purchases, and overall increased customer loyalty.
While email marketing is not only one of the more easy and cost-effective ways to advertise for a company it also has multiple statistics that show why it is an effective tool to gain new customers as well as retain old ones and encourage repeat business.
The return on investment in email marketing can be impressive with $1 returning an average of $38 in revenue.
80% of professionals claim that email drives the growth of their business.
Buyers are twice as likely to interact with a customer through email than they are through Facebook.
61% of consumers say they look forward to weekly emails from newsletter lists they subscribe to.
Personalized emails will see a six-times higher transaction rate.
Omni-Channel Management
Growing brands will rely on omni-channel management, which is strategic and process in which business plans to sell their product or service in a variety of venues to be able to grow their company and keep up with the online buyers. Most brands will sell their products for at least two or more locations including:
Physical stores
Websites
Marketplaces such as Amazon, eBay, and Etsy
Social media channels including Facebook, Pinterest, or Instagram
Pop up stores
Events and Tradeshows
You must first decide which venues will be best for your product, brand, and the audience that you are seeking to engage with most. Statistics show the benefit of implement an omni-channel management program as a way to gain a higher customer following and grow their business.
91% of businesses that will use omini-channel management will see an increase in customer retention year over year.
87% of customers fell business should create a multi-channel approach to make the shopping experience seamless.
71% of customer feels that they should be able to see inventory across multi-channels that a business may have.
45% of shoppers that go into a stare expect associates to be familiar with the company's online products.
Influencer Marketing
Online business strategies for 2018 are trending to a higher use of influencer marketers to help them increase their brand awareness and grow there marketers. One of the primary reasons behind this trend is the fact that consumers will tend to trust someone's opinion that is not directly linked to the company. It is marketing's way of taking the word of mouth away from being necessarily face-to-face. The benefit to companies is that not only doses an outside opinion often carry more weight but it also can cost significantly less than the hiring of another marketing person. Some of the most common strategies for using marketing influencers are to:
Feature your company's product or service.
Provide reviews of products or services.
Promote your online events or giveaways.
Promote your discount offer and drive conversion rates.
Provide links to your sites.
Statistics show the importance that influencer marketing can have on the growth of a company and brand due to the fact that those relying more on technology to aid them in their buying decisions are likely to look to influencers on advice for items that they cannot physically connect with until they make a purchase.
70% of millennials will be influenced by another's recommendation when making a purchase.
30% of consumers are more likely to purchase products recommended by a non-celebratory blogger.
18% will go to a YouTube influencer to guide them in their buying decision.
Over 34% of men and over 15% of women are influenced by a blogger to make a purchase.
In a study tweets from influencer resulted in over 5 times higher purchase intent.
50% of users follow celebrity and musician accounts opening a large audience to their product endorsement.
Online Shopping Statistics
Online shopping has become the newest and most popular way to get what you need while still being able to keep up with a busy seclude. With more than 70% of all consumers deciding to make their purchases online it is no surprises that businesses both large and small are looking to take advantage of and make themselves more appeal on the online mart. Online shoppers will spend an estimated $3.2 trillion dollars. Check out some of the stats below of how consumer divide to spend.
What Countries See the Highest Retail Online Sales?
Online shopping is a global phenomenon resulting in some of the highest sales numbers in many countries. But you may find yourself wondering which countries are more likely to shop online than others.
The U.K tops the list of online shoppers with 17.8% of all retail sales being completed online.
Germany was the next highest at 15.1%.
The U.S. came in third with 14.8%.
France saw the first significant drop at 12%.
Sweden and the Netherlands both followed closely at 9.5%.
Switzerland, Austria, and Belgium all came in close at just over 7%.
Spain was at 4.8%, Poland at 4.3%, and Italy at 3.4%.
How Do Most Online Shoppers Make Their Online Purchases?
Knowing how buyers make their online purchases is as important as knowing what they purchase. By knowing how your target audience is most likely to shop will allow you to make sure your website is easy to use and you capture your intended market without alienating them due to a slow or difficult to navigate the site. Statistics show that:
16% of purchases will be made form a mobile device.
Mobile slowness accounts for more of the consumer frustration which can result in an 8% decrease in engagement.
Out of the 68% who will try to use a tablet or mobile device, 66% will abandon the sale due to frustration or inability to complete the purchase.
55% of time spent on a retail site is on a mobile device.
44% of consumers will use a desktop to make a purchase.
52% of those making an online purchase will use a smartphone.
3.89% of shoppers will perform their online shopping on a tablet.
Apple user will spend more online with an average of $228 over PC users $187.
Does Impulse Buying Affect Online Buyers?
We all know what those quick grab snacks and essentials right the at end of the checkout line are there for a reason. There are there to trigger your impulse to buy something you probably don't need but seem to want anyway. Research has shown that when shoppers buy online and away from a physical store and aisle the behavior is no different with 48% of buyers spending more on impulse items than what they had planned to spend when they signed on.
What Factors Are Influential in Guiding an Online Shoppers Decision to Buy?
While there is always something that drives us to make purchases in stores the primary one being price those factors driving online shoppers can be a little different though no less important.
87% of shoppers are influenced by price.
88% are influenced by shipping costs.
71% will find the driving force behind their online quest is a discount offer or coupon.
71% will focus on stock availability.
68% are influenced by a trustworthy review.
67% will be driven by brand reputation.
42% will cite family friends as an influence for making an online purchase.
23% are influenced by social media suggestions.
21% have been motivated by advertising.
Do Consumers Spend More to Achieve Free Shipping for Their Products?
Shipping costs and speed are often motivating factors when it comes to online purchasing with 58% of consumers saying that they are willing to add more items to their cart to enable them to gain free shipping on their checkout. There are also a number of other shipping habits that online buyers will do to save money.
58% will add additional items to increase the value of the cart.
50% will choose the slowest transit speed possible.
47% will search for a free shipping promo code.
35% will take advantage of a ship to store options.
31% will join a stores loyalty program.
30% will wait for a free shipping offer to come.
28% will shop at a physical store for the item.
16% will buy a more expensive product that has free shipping.
7% will take no action.
How Are Online Shoppers Influenced by Return Policies?
At least 63% of online shoppers say that they will look at an online retailer's return policy before making a purchase. With the bedroom becoming the new fitting room for many online shoppers having a hassle-free return policy can have a great effect on customer loyalty, repeat purchases, and retention.
95% of online shoppers said that they would repeat shop at a site if they had a good experience with an item's return.
82% said that they had already returned to an online retailer for a second purchase due to a positive experience with a previous return.
Free return shipping for items can help improve an online store's sales 25% over six months.
Unfortunately, not all retailers take advantage of this with 90% of online retailers charging for returns and 30% failing to provide any detailed return policy on their websites.
How Do Online Reviews Affect a Shopper's Consideration?
With six out of ten customers reading an online review before making their final purchase decision it comes as no surprise that online reviews play a vital role in online purchasing.
90% of all consumers say that they trust an online review more than they do information from sales professional.
14% of online shoppers have said that they have posted an online review.
30% of online consumers say that a good review increases their confidence in a product or service.
35% claim that they always read reviews online first to see if a business is trustworthy.
38% say that online reviews were very important in making their final decision to buy.
80% of consumer will search for a product or service after seeing a positive review online.
What Sites Do consumers Find Trustworthy When it Come to Product Reviews?
Many online marketplaces and retailers need to know which sites retailers will find that will provide them with the most valuable and trustworthy reviews. By knowing this they can see what influencers their buyers and how it is possible to begin to gain their trust enough to get them to make the first purchase. Some of the reviews consumers are most likely to seek out during their product research include:
Amazon with 80% seeing them as a trustworthy source.
67% choosing Target for review information.
Best Buy where 64% will look for product reviews.
Walmart which has 62% of online visitors looking for a product review.
eBay sees 59% of shoppers looking for reviews.
50% of shoppers are likely to trust a review from Kohls.
In Conclusion
The online marketplace is vast with amazing opportunities for both exclusive online stores and brick and mortar retailers looking to expand their customer base and offer more products to a wider audience. Some of the most important things for businesses to consider when competing in the online world is the importance of social media and influencer marketing, mobile optimization, customer experience and personalization, and solid product reviews.