After being postponed a day due to Hurricane Isaac, the 2012 Republican National Convention is finally underway, y'all! Even though it's only been a day, so much has happened. A Black CNN camerawoman was harassed by a convention attendee who threw peanuts at her and said, "This is how we feed animals." Because this jackass wanted her to know that he went to the Disney school of how to be a racist. I'm not saying he had to try and beat her down, but if your racism consists of throwing your spare protein source at me, then color me unimpressed. However, not all was doom & gloom during day one. Rumors about a surprise mystery guest speaker on Thursday (Sarah Palin? A hologram of Ronald Regan who will crip walk his way off the stage after his speech? A gay person? Seriously, any gay person who is Republican will do) has folks buzzing. Simply put, RNC coverage seems to be taking over the news, so it's only natch (aka natural) for lil ole Blaria to provide a breakdown of  some of the highlights from Day One's activities.
#1) Southern gospel group The Oak Ridge Boys singing Amazing Grace:
What in low budget, county-fair, cheesy cheddar grits kind of group is this? I'm sorry. I can't take them seriously when dude on the far right looks like Eugene Levy in a bad wig. I mean, this musical act has "worst case scenario" aka "no other White people wanted to fly down to Tampa during hurricane season to saaaaaang for Romney" written all over them. Obvs, Romney's peeps can't book someone like Bruce Springsteen, but they didn't have to get a bunch of dudes who if someone told me they like to reenact the demise of Hilary Swank's character in Boys Don't Cry for fun, my immediate response wouldn't be, "Duh, bitch." Okay, okay. Maybe I'm being harsh because I never heard of these cats. Why? Because they sell their music at Cracker Barrel:

And The Oak Ridge Boys ain't ashamed of it either. That Cracker Barrel emblem is the biggest damn image on this ad besides the picture of the group. They have two titans of the digital music world – iTunes & Amazon- and they put shit in tiny high school report footnote font size, so they could let us know that the place where most people go when they've been driving on the highway for a couple of hours and need a place to poop is THE place to purchase The Oak Ridge Boys records. Even Romney was probably like, "Man, this is some bullshit."
#2) Why?:
Random Black Lady, why are you at the RNC wearing a Toby Keith cowboy hat AND allowing Rick Perry to put his crusty ass hand on your shoulder? Don't you remember the whole "Niggerhead" controversy? Sure, Perry said the Niggerhead rock is from the previous owners of the now Perry family hunting camp grounds, but why is he still in possession of it and has it chilling at the front entrance of the camp site and welcoming people like the smell of a freshly-baked batch of Betty Crocker chocolate brownies? It's a rock. It's not special. Throw that shit out.
#3) CNN's Anderson Cooper being a dumb bitch/ratings whore by standing outside to report during Hurricane Isaac:
If you watched CNN's coverage of the RNC like I did last night, you noticed how CNN kept interrupting the proceedings to cut away to Anderson Cooper saying, "This water is stinging my eyes." Take your ass inside, Anderson. It's obviously not that serious for you because while Louisiana residents are in the basements of their houses and alternatively holding loved ones and eating peanut butter and jelly sammiches (protein!) for strength, you have time to MOTHERFUCKING tweet in the middle of a damn hurricane:
#4) A Ridic Moment during Ann Romney's Speech (cued up at 0:27 seconds):
I LOVE YOU, WOMEN! Are you drunk on Franzia wine or is this your Oprah impression sans blackface? Why are you screaming that like you're at a Mexican restaurant, cele-crying (that's a combo of crying while celebrating) with your girlfriends during your bachelorette party? I half expected her to be like, "You get a dick balloon hat! You get a dick balloon hat. Dick balloon hats for everybody!" Ann, calm ze fuck down and stop acting driz-unk. But since that wasn't possible, I'm pretty sure that once her and Mitt walked off stage after her speech, Ann's loopy ass said this to him:

#5) Eww, Mitt Romney kisses with his eyes open. That is some creepy shit that Buffalo Bill probably would do:
#6) This bitch…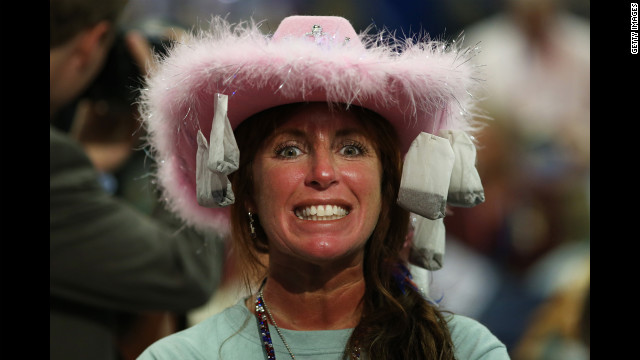 You know she's type of person who, every year for the 4th of July barbeque, brings her cold ass, nasty ass macaroni salad and forces it on everybody. So, out of kindness you put some on your plate and of course, the watery dressing from the macaroni salad has completely sogged up the bottom part of your piece of cornbread. But you smile like that's what you wanted and she goes, "You're gonna love it, girl." Yeah, she's definitely that kind of person.
#7) Is it wrong that I would tap the Romney's son on the right?:
No offense to Craig, but I'm not feeling him at all. His hair looks like he put jheri curl activator juice in it and then left his house mid-activation before he had a chance to style his hair right.
#8) Gov. Chris Christie's entrance on stage:
Really, Christie? That's how you're going to walk on stage? Fist punching the air like you're one of the kids trying to summon Captain Planet:
Well, that's it for Day One of the Republican National Convention! Hope y'all enjoyed my little snark-a-thon and keep watching the RNC with me.