In preparation for beginning my Blaria coverage on the Democratic National Convention last night, I did a lot of this:
Except I don't really have boobs to bounce up and down like that, so when I got all up in my chesticles, I basically just gave myself a mammogram. Anyway, the point is that I was pretty pumped for the DNC as the list of speakers looked great: First Lady Michelle Obama, Cory Booker, and Former President Clinton just to name a few. Then I watched Day One of the DNC. I hate to write this, but except for speeches by Deval Patrick, Julian Castro, and the First Lady, last night's activities were a little on the boring side. Sure, the video tribute for Ted Kennedy was very lovely, but the entire Kennedy clan showed up and reminded me that ALL of them have the same damn teefs and faces. Creepy! And then I had to sit through W.R. O'Dell Elementary School's 3rd grade class reciting the Pledge of Allegiance. Look, Blaria loves the chillrens. However, this cacophony of high-pitched voices from the 3rd grade class pulled a Chuck Norris and karate chopped my damn eardrums in half like it was a piece of 2×4 wood from Lowe's. No me gusta. But damaged eardrums and scary Kennedy teefs aside, nothing is going to prevent me from recapping Day One of the DNC, so away we go!

#1) Jesse Jackson in a moment of prayer during the benediction:
Who in the United Negro College Fund hell is the guy next to Jackson? First of all, this Black dude is literally all. Up. In. Jackson's. Grill. I mean, damn, how could anyone focus on their prayer when someone's lapel is rubbing up against your elbow? Second, this guy is straight up trying to mean mug the camera with his tinted bifocals when he should be having an internal Gchat with Jesus and God.
#2) CNN wants to get some celebrities' opinions on the DNC and this is what we ended up with:
E'erybody in this screen capture, especially John Leguizamo, is like, "Are we really standing next to the nigga that was in Wings?" Yes. Yes, you are John:
#3) In response to the jacuzzi-sized hats worn at the RNC last week,  Texas Senate District 13 chairperson Nat West of Houston is rocking a mini cowboy hat that has the words, "No Friggin' Big Hats!":
Sure, the hats at the RNC made it seem like a two step to Cotton Eyed Joe was going to break out at any moment, but this tiny hat alternative just looks like a failed Anne Geddes photo project. So how about no hats?
#4) If you look like a combination of Conan O'Brien, a Kennedy, and Ron Howard AND have flowing red locks like the bitch from the movie Brave:
you will be on the express train to my nightmares if Joseph Kennedy III: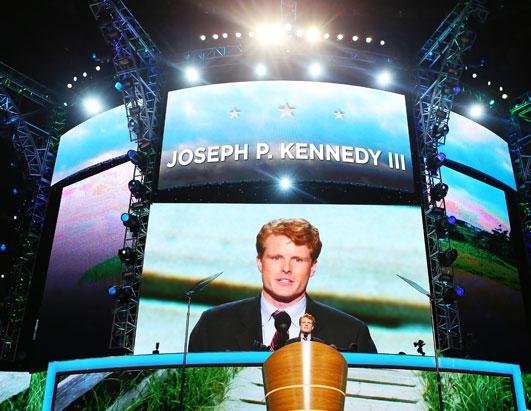 #5) This White dude's dumb facing bombing Kamala Harris' interview with CNN:
Look, she did not get a no-lye relaxer (because of her sensitive scalp) to chemically straighten her hair and look fierce on national television so this damn fool could creep over her shoulder like he's Wilson from Home Improvement. If she had know he was going to do that, I doubt that she would have put on her finest Julia Sugarbaker from Designing Women suit and instead she would've just rolled out the house and to the DNC looking like this:
#6) Stacy Lihn speaking about how Obamacare has helped her family:
And her husband is like, "OVER IT!" Dude, your daughter has a congenital heart defect and without Obamacare you couldn't afford your bills. Look grateful instead of looking like you came home from a long day at work and Stacy said, "Hey, honey, I dvr'd reruns of According to Jim for you!"
#7) First Lady Michelle Obama closing Day One of the DNC with her speech:
Black women's reaction at the end of this speech:
That's right, y'all, they reacted like Patti LaBelle getting the holy ghost while wearing a wig that could double as a head dress from Coming to America. Okay, that's it for Day One of the Democratic National Convention! Come back tomorrow as I break down Day Two. Thanks!