#TeamBlaria, last night's Vice Presidential Debate turned out just like I expected. VP Joe Biden spent half the debate being incredulous by flashing his toothy grin so big and wide that you could see where his Fixodent gel ended and his dentures began while Congressman Ryan slurped down water every time Biden got eyebrows deep in that ass with some fact checking:

Suffice it to say, things were pretty heated from minute one. So let's go on a journey to see exactly what happened during last night's debate:
#1) Moderator Martha Raddatz let Biden and Ryan know that she's not taking any mess:
#2) Biden and Ryan began both of their opening statements by saying how honored they are to be debating each other:
But on the inside, they were like:
#3) Ryan after the first few times Biden interrupted him:
#4) What Ryan thought he looked like when he glared seductively at the camera:
But he actually looked like a smug robot:
#5) Ryan when Raddatz pressured him to provide specifics about Romney's tax math:
#6) Fightin' Joe Biden doing his fightin' thing:
#7) Biden dropping the 47% quote made Ryan do this:
And then respond with, "I think the vice president very well knows that sometimes the words don't come out of your mouth the right way:"
And Biden thought, "I really wish this nigga would…:"
#8) Ryan after being repeatedly interrupted by Biden: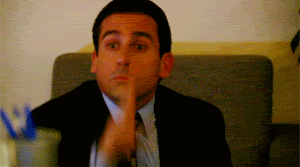 #9) Raddatz asking for their thoughts on abortion. At first, Ryan was like:
But he quickly gathered himself and said the following, "Our [unborn] little baby was in the shape of a bean, and to this day we have nicknamed our first born child, Liza, 'Bean,' " which made all the undecided female voters go:
While Biden said he didn't want to push his religious beliefs onto other, which made Democratic female voters go:
#10) Biden zinging Ryan with the comment "Oh, now you're Jack Kennedy?:"
#11) When Biden asked for more time to speak before the closing remarks, Raddatz was like:
#12) At the end of the debate, Raddatz said goodnight and thanked the viewers for watching, but we all know that she was sending a secret message to Jim Lehrer:
Ladies and gentlemen, that's it for the recap on last night's Vice Presidential Debate. Hope you enjoyed it. Have a great weekend. Love you. Mean it.