#TeamBlaria, I have finally unclenched my booty cheeks after watch last night's town hall Presidential debate at Hofstra University. Whew, that mess was intense! Obama and Romney called each other liars and invaded each other's personal space like they were about to get physical, knowing damn well that you can't fight in wingtip shoes because those things are slippery as hell. The point is that the showdown between these two men felt like an awkward ass Thanksgiving dinner; all that was missing was some candied yams. Anyway, let's see exactly what the heck happened during last night's debate:

#1) Underlying meaning of college student's opening question about loans:
So when Romney said he's on #TeamPellGrants, college students across the country were like:
#2) The first and only time that anxious looking White guy and the woman in this GIF below shared this thought:
Obvi, a grown ass man can't get preggers, but that guy was holding the index card like a woman holds a pregnancy test during her first pregnancy scare. Suffice it to say, dude was nervous as hell at having to read off an index card in public.

#3) When Obama got off his stool to step to Romney, I yelled at the TV, telling Romney:
#4) Candy Crowley when Romney & Obama talked over each other:
#5) Romney said he had "binders full of women:"
#6) Romney said that he's sympathetic to female employees by not having them work crazy hours, so "they can go home and make dinner," which made women voters go:
#7) When Candy Crowley fact checked Romney, my boyfriend and I were like:
While Romney was doing this to Obama and Crowley:
#8) Finally! A person of color asks a question:
Except the question is hella weak and terrible:
#9) Candy Crowley fed up with Romney speaking over her, so she told his ass to sit the hell down:

#10) Romney after Obama coldly dismissed him by saying, "Please proceed, Governor:"
Obama stared back at Romney as if to say, "Yes, bitch, I said, PRO. CEED:"
#11) When Romney alluded to the fact that violence would decrease if more kids grew up in two parent homes, all the single parents out there were like:
#12) Romney after Obama's jab about the size of his large pension:
So he sassed back by asking to look at Obama's investment account, which made Obama do this: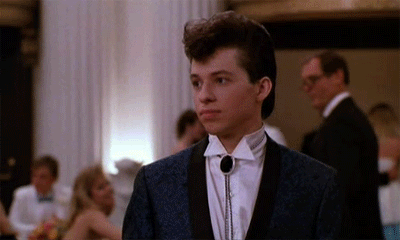 #13) What First Lady Michelle Obama and Ann Romney wanted to do after noticing that they're both wearing Pepto Bismol-colored outfits: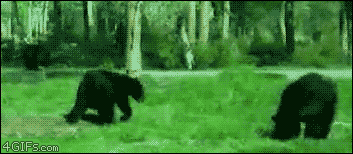 Y'all, that's it for the recap on last night's Presidential Debate. Hope you enjoyed it. See you on the flip side.