Well, #TeamBlaria, that was it. The final presidential debate went down last night in Boca Raton, Florida. Not gonna lie, for the most part, I was like this during most of the debate:
Basically, I was kind of bored until either Romney or Obama dropped a zinger and then I was like:
Anyhoo, despite the fact that this election will not be decided on foreign policy, it was good to watch each candidate bring it and try to snag the last undecided voters. By the way, what the hell is up with that? I mean, at the time of the debate, there were fifteen days left before voting day and bitches were and are still undecided. WHAT ARE YOU WAITING FOR?! Well, according to one woman interviewed on CNN prior to the debate, she said she was waiting for her "mind to be blown." Ma'am, this is a debate, not a vibrator nor homemade macaroni and cheese. Your world will not be rocked during a discussion about foreign policy. Please sit the hell down, get your life together, and make a damn decision. Moving on. Let's get to my final GIF recap of the debates during this election season.
#1) Moderator Bob Schieffer kicked off the night by telling the audience to:
#2) Romney began his opening statement by saying, "It's nice to be together and be funny maybe not on purpose," and everyone at home was like, "¿Cómo se dice 'awkward?':"
#3) Romney congratulated Obama for killing Osama bin Laden, BUT then said, "We can't kill our way out of this mess:"
Classic fake out.
#4) Obama called Romney out for saying Russia is America's biggest geopolitical foe:
Every 1980s-style comic at home was like:
While the rest of us were like: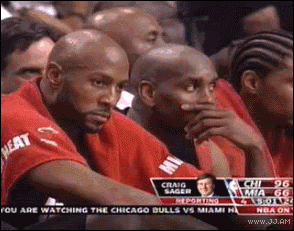 Fine, President Obama, we'll let you have that one.
#5) When moderator Bob Schieffer accidentally said "Obama bin Laden:"
#6) Romney's smug look after he felt like he nailed it when he said we should arm Syrian rebels and help them organize their shiz:
#7) Obama knocked Romney's attack about the decreasing size of of the US navy and said, "We also have fewer horses and bayonets:"
#8) Romney was not having it when Obama interrupted him and said, "I'm speaking," which made Obama go:
#9) Both Obama and Romney constantly tailored their answers to woo female voters, which made the ladies feel like:
#10) Schieffer shut Romney's pandering down by saying, "Look, we all love teachers," like a boss:

And then during Romney's closing statement, Schieffer didn't give one Werther's Original fuck and put his purple Officemax binder into frame:
Straight. Up.
#11) Josh Romney's creepy ass on stage after the debate ended:
And Obama was probably thinking:
A'ight, y'all, that's it for my last debate recap of this election season. So sad that it's over, but I hope e'erybody had a blast watching the 2012 Election with moi. Love you. Mean it.